How To Make Old Kitchen Appliances Look As Good As New
13 March 2014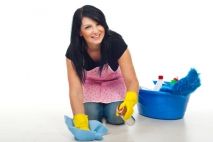 It's important to maintain kitchen appliances as this will increase the life and longevity of the item, regular cleaning is advised to get the best out of your appliance but there a few other ticks you can try, to help revive their appearance and to make them look as good as new again.
Reviving old kitchen appliances does not have to cost you the earth, in fact by putting some of this advice to good use, it could save you a packet as your appliances may last you longer and you won't have to replace them as often!
The simple method!
The simple method requires nothing other than cleaning products and plenty of elbow grease.
You don't have to spend a fortune on products; you only need simple washing up detergent or homemade cleaning products such as citrus and vinegar which are effective for cleaning appliances like fridges and freezers.
• Clear all contents from your fridge or freezer and allow defrosting.
• Remove all shelving and compartments and wash by hand in the sink.
• Wipe away any excess water and reside before you begin.
• Spray the appliance with cleaning product or apply using a sponge and soapy water.
• Rinse several times and leave the door open to allow it to dry.
• Replace all shelving and compartments
• Next clean the exterior by simply wiping over and rinsing off to allow the appliance to shine afterwards.
• Finally this is extremely important for the appliance to work well, vacuum the back of the appliance and remove all of the trapped dust from the protective grill.
Fresh look for scratched and marked appliances!
After cleaning, if you are still not happy with the look of the exterior you could try any of the following to help revive the appearance and offer the appliance a fresh new look.
• Touch of magic! Try a touch up paint pen to fill in the scratches and marks, this should make a remarkable difference to the look of the appliance and it's not difficult to do. Most DIY stores will stock a paint pen which matches the colour of your appliance.
• Feeling daring? Why not find a good shade of enamel and paint the whole thing, you can completely change to colour of the appliance by doing this and it is ideal for anyone who has just changed the shade of their kitchen.
• Little differences! You'd be surprised what a huge difference doing a little job such as replacing handles and knobs can do, try it out!
• Repair metal racks! If your fridge or dishwasher racks are losing their vinyl coating and the metal is exposed, try a vinyl repair kit instead of costly replacement, these can be found online.
Follow these top tips for extra help:
Tip/ Clean appliances not only look better they also work much better too, a cleaner oven will cook more effectively and efficiently and it is recommended to perform this task at least once every 6 months with continual regular cleaning in between.
Tip/ Look out for cleaning products designed to remove rust and corrosion as this will help maintain a fresh look and keep the appliance in tip top shape.
Tip/ replacing refrigerator filters at the back of the fridge will help to eliminate germs and bacteria that build over time.
Tip/ Bleach is a known product to remove bacteria from all appliances however many people don't like to use it, did you know that vinegar is a great alternative? Yes, it's much safer to use and just as effective too!